Tokyu Real Estate Investment Management Inc.
is an asset management company for
Tokyu Real Estate Investment Trust, Inc.
Corporate Profile
Corporate Name

Tokyu Real Estate Investment Management Inc.
Address

SHIBUYA MARK CITY, WEST 11F, 1-12-1,
Dogenzaka, Shibuya-ku, Tokyo 150-0043, Japan
Established

June 27, 2001
Business outline

Financial instruments business (investment manegement)
Capital stock

300 million yen (shares issued: 6,000)
Representative

Kazuyoshi Kashiwazaki, Representative Director & President, Chief Executive Officer
Shareholders

Tokyu Corporation, 100%
Number of employees

47
Registrations and Licenses, etc.

Financial Instruments Business Operators Registration: Kanto Local Finance Bureau (Kinsho), No. 360
Building Lots and Building Transaction Business License: Governor of Tokyo (5) 79964
Discretionary Transaction Agent License: The Minister of Land, Infrastructure, Transport and Tourism, No. 17
Organization Chart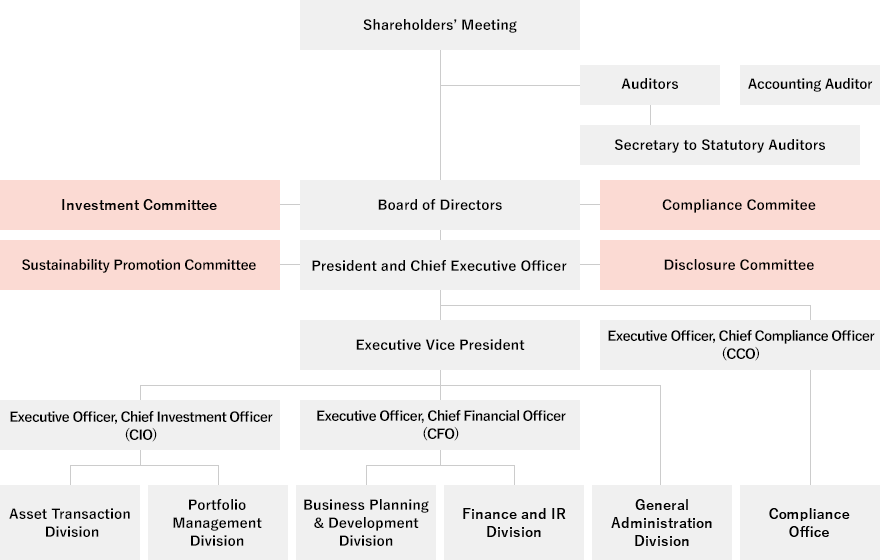 Initiatives for Sustainability
TOKYU REIT pursues the enhancement of asset value and profit growth over the medium to long term through investment in highly competitive properties in areas with strong growth potential. This approach is based on asset management that seeks growth, stability, and transparency, with the ultimate objective of maximizing unitholder value.
The basic investment management strategy that TOKYU REIT has used since being listing in 2003 is the capital reinvestment model, or continually improving the value of the portfolio and investment target area through collaborations with our sponsor.
Tokyu Corporation, our sponsor, has been striving since being founded for sustainable urban development. This has been done by pressing ahead with both solving social issues and growing businesses, while balancing public and internal characteristics with the development of public transportation and residential areas along the Tokyu railway lines as the two pillars.
TOKYU REIT will improve the asset value of the portfolio and grow profits over the medium to long term by pursuing continual value enhancement in investment target areas through sponsor collaboration. This will be done in line with the stages of the life of properties in investment target areas, which include areas along the Tokyu railway lines covered by the sponsor.
Furthermore, while also implementing the Long-Term Investment Management Strategy (Surf Plan), which focuses on the medium- to long-term cyclicality of real estate prices, TOKYU REIT will work on sustainable investment management emphasizing growth potential and stability to be a 100-year REIT (a REIT that continues to grow over 100 years).
In order to pursue sustainable investment management, ESG (environment, social and governance) and SDGs (Sustainable Development Goals) are important management challenges. Tokyu REIM has identified material issues (materiality) by recognizing their importance for the stakeholders surrounding TOKYU REIT and Tokyu REIM as well as for the economy, society, and the environment and we promote measures that solve these issues.
Your continued support is greatly appreciated, as TOKYU REIT and Tokyu REIM remain committed to promoting our contributions to realize a sustainable society. At the same time, we are aiming to improve the value of our portfolio and to maximize unitholder value by establishing good relationships with stakeholders through dialogue and by contributing to value improvement in investment target areas.
September 2020
Kazuyoshi Kashiwazaki Representative Director & President, Chief Executive Officer
Tokyu Real Estate Investment Management Inc.
A REIT is a financial product that invests funds collected from investors in a variety of commercial facilities, office buildings and other real estate with the aim of providing investors with rental revenue from those properties and gains on sales of real estate.
Originating in the United States, REIT is an acronym for real estate investment trust. Subsequently, this became known as J-REIT in Japan, with the "J" standing for Japan.
J-REITs are a type of investment trust and are listed on stock exchanges. The first J-REITs were listed in September 2001, and TOKYU REIT, Inc. was listed on the Tokyo Stock Exchange in September 2003.
J-REITs issue investment securities (equivalent to the stock certificates of publicly traded companies) that are purchased by investors or bought and sold in the J-REIT market just like stocks. Investing in J-REITs is a way to indirectly invest in real estate. Going forward, the J-REIT market is expected to grow even further.
How J-REITs Work
The Act on Investment Trusts and Investment Corporations (Investment Trust Law) stipulates that investment corporations outsource the selection of real estate and investment decisions and have no employees. The investment corporation has only executive and supervisory officers, and outsources real estate selection, investment decisions, and other general administrative tasks to an asset management company that is an external financial instruments business operator.
Tokyu REIM entered into an entrustment for asset investment agreement with TOKYU REIT, Inc., as an asset management company entrusted with the following duties.
All duties related to the management of the investment corporation's assets (including making all decisions regarding the sale and purchase, exchange, or leasing of residential land or buildings, and acting as a proxy or intermediary for these transactions based on these decisions).

All duties related to fund procurement by the investment corporation.

All duties related to reporting to the investment corporation.

All other duties related or incidental to (1) through (3) above that the investment corporation outsourced as needed.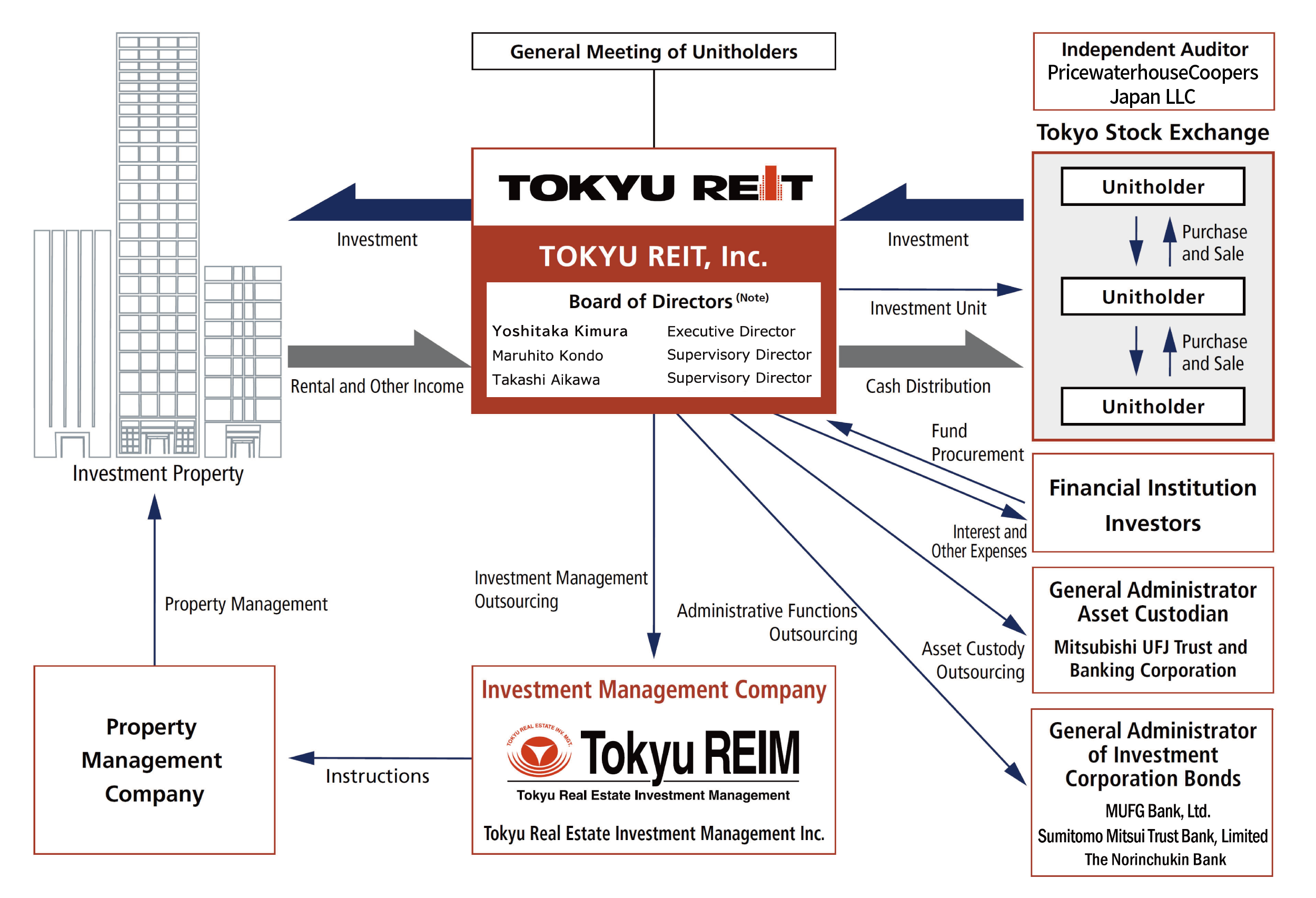 In addition, appointment of Tatsumi Yamagami as a substitute executive director was approved at the General Meeting of Unitholders of TOKYU REIT held on April 16, 2021.